Celebrating its 125 anniversary in 2015, Ilkley is the third oldest club in Yorkshire and one of the finest in the county, both in terms of beauty and for an unforgettable round of golf. It boasts two former Ryder Cup captains as honorary life members, Colin Montgomerie, who learnt his golf at the club, and Mark James, who lives locally.
With a par of 69 and standard scratch of 70, the 6276 yard course is a great deal more difficult than it might first appear. Testament to this is the fact that the course record for a professional is only 64 and was set by Colin Montgomerie, when he was at his peak. The club is extremely popular with societies, corporates & casual visitors. Much of this is down to its picturesque setting next to the River Wharfe with Ilkley Moor as a backdrop.
With a number of holes designed by Dr Alister MacKenzie, the course is a real test whatever your handicap. For the first seven holes the river is ever present, with the second, third and fourth holes being played onto and off an island. Moving inland the tree-lined fairways ensure the need for accurate drives and approaches. With the greens close to the tees and no deep rough you can complete the round relatively quickly enabling you to comfortably enjoy a couple of rounds in a day, if you wish.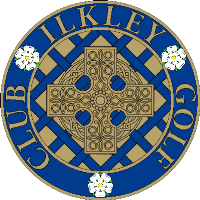 Course Name - Ilkley
Details - 6,276 Yards Par 69
Architect - Alister MacKenzie
Nesfield Road, Myddleton, Ilkley LS29 0BE